Driveway Beers Podcast
Men's Mental Health!!
We brought Luke, from A Therapist, A Buddhist and You to the basement to get a professional opinion on how screwed up we are. We talk about things that trigger our anxieties. We also ask if Men and Women have different anxiety triggers and if they deal with mental health differently. Today is the last day to enter the Amazon gift card giveaway!! You've got to like our Facebook page, subscribe to the Youtube Channel AND follow or subscribe to the podcast on Apple or Spotify!
Please subscribe and rate this podcast on your podcast platforms like Apple, Google and Spotify as it helps us a ton. Also like, comment, subscribe and share the video on Youtube. It really helps us get the show out to more people. We hope you enjoyed your time with us and we look forward to seeing you next time. Please visit us at https://drivewaybeerspodcast.com.
Please visit our sponsor, Cheers and Spirits, 1460 Ritchie Highway, Arnold, MD 21012 in the Arnold Station Plaza https://www.facebook.com/ArnoldStationCheersandSpirits/
If you'd like to be a guest on our show or sponsor an episode, please email us at contact@drivewaybeerspodcast.com.
Apple Podcasts https://podcasts.apple.com/us/podcast/driveway-beers-podcast/id1561504907 
Google Podcasts https://podcasts.google.com/feed/aHR0cHM6Ly9mZWVkcy5zaW1wbGVjYXN0LmNvbS93elJ0cWsxSw 
Spotify https://open.spotify.com/show/5oItCpaVj5yWQJfTcinxiv
Youtube https://www.youtube.com/channel/UCUL-I788t6MNjXG-Yo73kqQ
Facebook Page https://www.facebook.com/drivewaybeerspodcast/
Our Friend Luke's Podcast:
"A Therapist, A Buddhist And You" https://www.recoverycollectivemd.com/weekly-podcast
National Crisis Line: Dial 988
Maryland's Crisis Line
Dial 2-1-1, Press 1
24 hours a day, 7 days a week
#asmr #mental #health #crisis #suicide #veteran #therapist #therapy #men #women #podcast #whiskey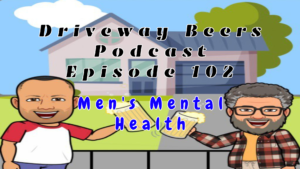 #asmr #podcast #mental #health #therapy #therapist #988 #suicide #prevention #anxiety